Gandhiji and women empowerment: Should women sacrifice Freedom for Safety? [Gandhi three wise monkey]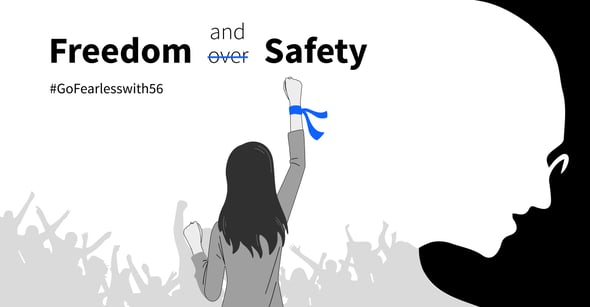 Words of Mahatma Gandhi
As we celebrate Gandhi Jayanti 2022, we would like to recall the words of Mahatma Gandhi. India will be free when the women feel safe walking in the streets of India at the midnight.

After 75 years of Independence, do women in India feel safe walking alone at midnight? 56 Secure spoke to women from various fields across the country on whether they truly feel independent or not in today's world.
How do women feel in today's world?
Waseka - Social media manager, Meesho
"I grew up in Assam, where women are strong and independent. Despite it, when the night crawls in, I don't feel safe going out. Even today women are restricted in many ways. We think twice before going out. We give up on our freedom worrying about our safety. True freedom is when women feel safe no matter the time or place. It can happen only with strong law enforcement, stronger communities, and education. Safety starts from home. And it's the duty of a parent to inculcate respect during a child's upbringing"
Savleen Kaur - Sr Program manager, 56 Secure
"Eve-teasing is common in India. Being ogled upon is so common in India. Being followed is common in India. Being groped is common in India. We have normalized such issues which shouldn't be the case. Such things are not taken seriously and reported. These are not considered crimes for that matter.
Women's safety starts at home. I grew up in a home where I could wear shorts or anything I liked without being judged. Yet, if an outsider visits the house, I would change my clothes. Women's safety starts with the freedom to wear comfortable clothes. Don't you think?
Also, whenever we go out, we constantly watch over our shoulders. We are not truly free. There is a constant worry about our safety.
A lot of people feel intimidated whenever a woman is stronger or better than them in any aspect. Women don't have peace of mind because of constantly being watched or judged."
Aishwarya - Content specialist, 56 Secure
"Safety is a right but is not spoken much in India. In India, we are conditioned to believe that safety is not a concern. Our mindsets should change. I'll truly feel safe when there is no boundary on time or place or company. Even if something goes wrong, we don't know whom to reach out to and what to do at the moment.

Only when we are safe, we can go beyond. Thinking constantly about our safety and acting according to it shouldn't be the norm. Real freedom is when we don't have to think twice."
Conclusion
Women's safety and their freedom are being highlighted in recent times, but women still make a compromise on their freedom over safety every single day.
56 Secure works against just that. Being empowered and feeling safe no matter where you're is what every individual deserves no matter the age. And that's why 56 Secure provides you with a assured 3 minute SOS emergency assistance to ensure that you do not limit yourself and go above and beyond. Be it if you are being stalked, mugged or in case of a medical emergency, you can be assured that 56 Secure will be there for you.

Mahatma Gandhi's three monkeys
Tweaking the ideology of the three wise monkeys a bit "see no evil, hear no evil, speak no evil". If you see evil, don't be quiet, If you hear evil, don't be quiet, if someone speaks evil, don't be quiet.
This Gandhi Jayanti, stand up against evil and don't sacrifice your freedom for safety. #GoFearlesswith56

Building 56 Secure
Share this article