56 Secure - Safety System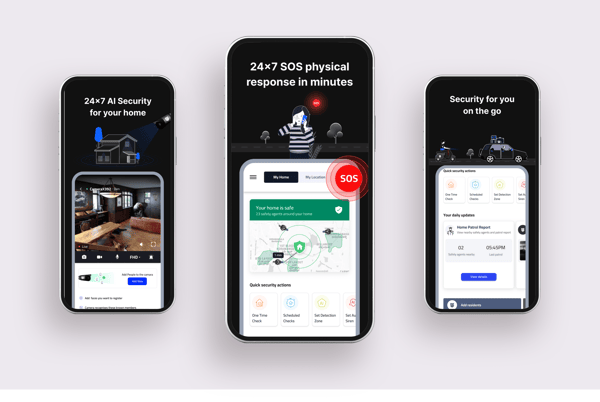 The genesis
At 56 Secure, we believe that everyone should have access to world-class physical security. 56 Secure has built India's first safety system for independent homes, apartments, and businesses. Our safety app leverages an interconnected network of guards and AI smart cameras to deliver an efficient safety experience to people. We're doing this primarily by developing location services, machine learning, and hardware running deep learning models. In the last year, we have resolved more than 2,000 SOS emergency calls, installed 1,500 AI cameras, and secured thousands of Bengalureans with the help of our app and network of guards. Our cutting-edge app works on real-time signals from our network of guards and smart AI cameras to deliver end to end safety experience to our subscribers.
Our eyes and ears aren't designed to scan an area, looking for suspicious activity. Our perception abilities are too easily manipulated, resulting in a false sense of security. Maintaining private spaces is a demanding task. Keeping an eye on the residents, visitors, customers and employees requires adequate surveillance and security. Manual monitoring of the livestream from the CCTV camera in real-time is error-prone and adds to cognitive fatigue. In a traditional physical security setup there is no monitoring layer over physical security guards and thus leading to zero visibility on security infrastructure which makes the traditional security eco-system reactive in nature.
56 Secure wants to transform the way security and process monitoring are achieved, via deep integration between computer vision, advanced location services, and real-time physical intervention. It doesn't matter where you are: on the street, at home, or at work: our connected safety app provides people with peace of mind round the clock. Our users also can rest assured that our safety agents are always just a few minutes away.
56 Secure combines safety agents, machine learning and video intelligence powered by AI cameras to give users complete protection in real-time. Wireless smart AI cameras run deep learning models and support advanced recognition of events such as Known / Unknown visitors, Pet and Vehicle detection. Users can setup camera assisted alerts to the guards and request "SOS" immediate assistance using our application. Network of trained and PSARA-certified safety agents are assisted by clustering and dynamic patrol route allocation which ensures the availability of the safety agents in a locality. Geofencing and real-time video intelligence help us to track processes and workflows. 56 seamlessly combine it all to give users peace of mind.
AI Infrastructure
56 Secure uses millions of signals from the connected network of smart AI cameras and safety agents to deliver an end-to-end safety experience to our users. We process more than a million events in a day. From the engineering side, we're striving to make 56 Secure's reliability a reality 99.99% of the time for our users. With millions of events coming into our platform, it's important to keep on top of what's going on across the board.
Context Engine Service: Vision
AI on the edge enabled cameras can proactively detect incidents in real time. A Smart AI camera powered by deep learning detects events including persons, pets, and vehicles with high accuracy. Real-time event analysis, anomaly detection using machine learning, and 24X7 camera uptime monitoring add an extra layer of visibility which is very critical when it comes to security. Unlike traditional CCTV our platform can help to deter crimes before they escalate. Vision service assisted with AI camera also enables security-related workflows for homes, businesses, and apartments.
Intelligent Location Service: Cerebro
Our vision is to not only keep our users safe on their premises but also act as their first responders whenever they are in need even if they are outside their houses. It becomes supercritical to monitor and track safety agents in real-time. Platform assisted with clustering algorithms leverages location signals to enable risk-based dynamic deployment in an area and alerts our in-house war-room team in case of any anomaly.
In case of any emergency, we use our interconnected network of safety agents and broadcast any critical information that can be useful to avert any threat in real-time. At the same time, we can track and monitor workflows and policies assigned to the guards in apartments and businesses and report them to the users.
56 Secure mobile app
Secure App enables users to check and get updates on the live security status of their home and their locality. It also helps users to raise "SOS" to the network of safety agents in case of a security emergency. Users can also request specific actions, view feeds, play archive and approve/reject visitors. Users can check security status at home & outside, flag security threats, and report incidents using the 56 Secure app.
If a culture of problem solving resonates with you, and if you like having an impact on millions of people, you might be a great fit for 56. We're currently hiring for a variety of technical roles, so do check out our Linkedin page for more information.
Impact
Over the past year we managed to create an impact by averting numerous incidents in localities . Check out what our subscribers have to say .

Building 56 Secure
Share this article