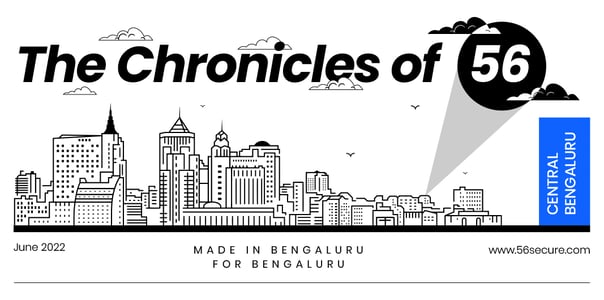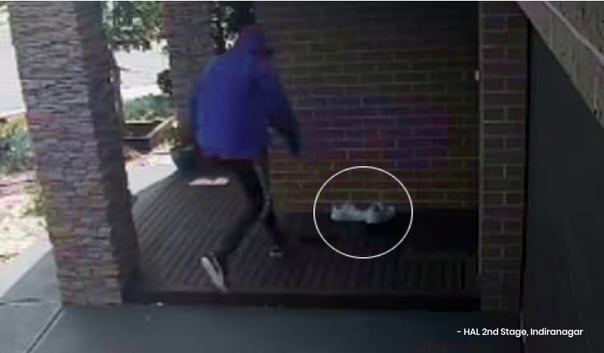 Burglars caught in the act!
Quite a few shoe thefts were reported last month, one of them took place in Indiranagar…


Neighbourhood updates
---
Homeless man suffers epilepsy, team 56 assists him



Our team received an SOS from one of our subscribers at 11:42 AM expressing that someone in front of their house was having an epileptic seizure. Our Safety Agents arrived at the location and escorted the man to our office in the Quick Response Team (QRT) vehicle.
The team then gave him some food and water. After this, the team asked him for his details and where he stayed. They got to know that he was from Vellore in Tamil Nadu and his mother brought him to Bengaluru for treatment. Unfortunately, our team couldn't contact his family members and decided to admit him to an orphanage. He was given a room and our team made sure he was comfortable.


Shoe thief caught in Indiranagar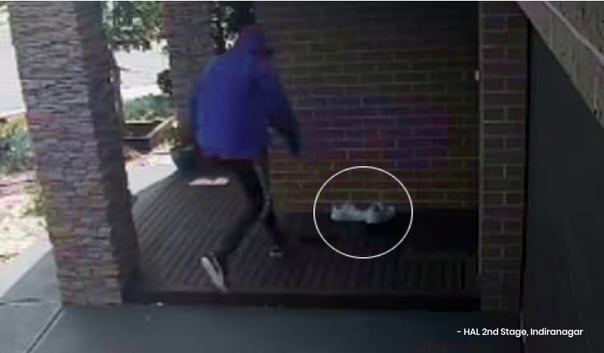 Two thieves stole designer shoes from roughly 10 houses in Indiranagar's 8th Cross around 3 AM on May 23rd. One of the subscribers in that neighbourhood sent out an SOS about the incident, and we were able to obtain footage from his neighbour's CCTV camera. After a few days, while on patrol in the same neighbourhood, one of our Safety Agents observed a suspicious guy exiting a house at 2:00 AM and approached him immediately after calling for assistance. The guy was identified as the same person who was seen in the theft footage. The cops were called and he was handed over to them.




African Lovebird found and returned home



At around 11:00 AM, during one of our Safety Agent's patrols at Langford Road, he rescued an African lovebird that was lost and out in the open. Our safety agent inquired around for the owner of the bird and within 15 minutes they had found and returned the bird to its rightful owner




Woman rushed to the ER after injuring her
hand

We received an SOS from one of our subscribers in Kasturinagar at 11:45 PM.. The subscriber's wife had injured her hand and needed to be rushed to the emergency room. Since the ambulance had not arrived for a while, our Safety Agents promptly requested the Quick Response Team (QRT) to arrive at the location. The QRT arrived in a matter of 3 mins and rushed the woman and husband to the nearest hospital. Luckily, the woman was not in a serious condition. After her treatment, our Safety Agents dropped the couple back home.


Children stuck in a broken-down auto



While patrolling the 5th A Cross of Manyata Residency, our Safety Agents came across an immobilised auto. There were children who were getting back home in that vehicle. Our Safety Agents alerted the parents and provided the location where the children were stuck, requesting that they pick up their children. The vehicle was then transported to a nearby auto station by the Safety Agents.



Your happy stories😊

---


#Guardianof56

---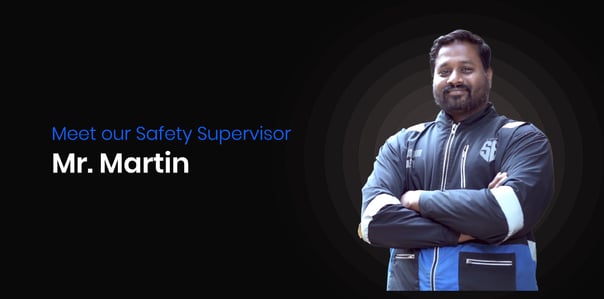 Mr. Martin has been with 56 Secure for almost one year now. If you have ever had the chance to interact with him, you would know that he is an extremely kind, soft spoken and a very thoughtful gentleman. He has attended various kinds of SOSs till date but the incident stands out the most.

A while ago, Martin got an SOS requesting help with an injured squirrel. After reaching the location, he was informed that the subscribers' dog had bitten a squirrel and it was in a critical condition.

Martin instantly took the squirrel to the nearest veterinary hospital and stayed there till the doctor treated the little one. After a while, the doctor came out and Martin hoped for some good news. But sadly the doctor couldn't save the little one as it was too badly injured.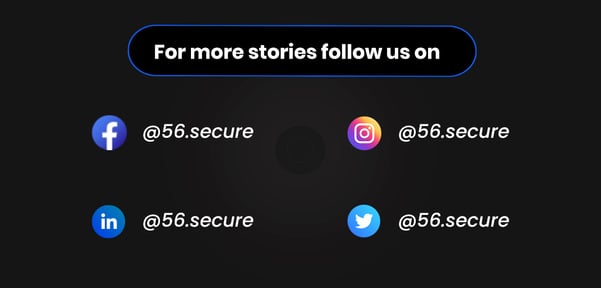 Tips by 56

Road safety tips
---


---
Mind Games
Can you find these 5 words in the following puzzle

---


---
Feature of the month

DETECTION ZONE

What is it?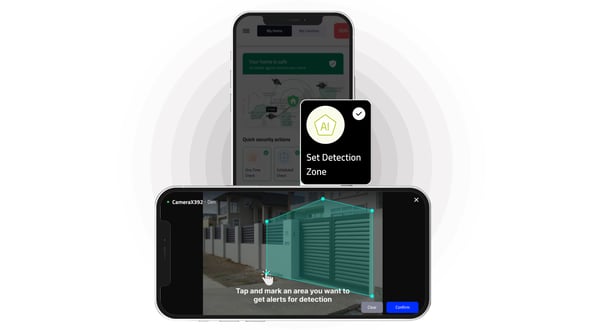 It's time to say goodbye to unnecessary notifications about every small thing.
Set an AI detection zone for your AI Camera easily through the 56 Secure app.

How does it benefit you?
Set an AI Detection zone for your AI Camera and enjoy the following benefits :
1. No more random notifications from your AI Camera about every detection.

2. Get relevant alerts only from a specified area of your camera footage.

3. Secure what matters most through relevant camera alerts.