Who Are Security Guards? Why And How To Hire Them
Intimidated by the growing crime rate in your city?
Questioning yourself whether you should hire a security guard?
You have answered your question here.
Yes! You should hire a security guard.
But before you go any further, you first need to know who is a security guard, what responsibilities he/she takes care of. And finally, once you know everything about this, you can efficiently hire a security guard.
So let us dive right in!
Who is a security guard?
A security guard is a person who is employed to protect and secure property, assets, or people.
They may patrol an area to deter and detect criminal activity, monitor security cameras, or respond to emergencies.
Security guards may also be responsible for enforcing rules and regulations on a property, such as denying entry to unauthorized individuals.
They are often found in places such as retail stores, office buildings, and other commercial or residential properties.
What does a security guard do?
A security guard's roles and responsibilities vary depending on the requirements which you specify at the time of hiring.
But from a broader perspective here are some of the tasks that a security guard performs:
Patrol your property and notify in an event of potential safety and security risk.

Check the credentials of the people visiting your property.

Prevent people from illegally entering your property.

Escort visitors to locations within your property.

In an event of an emergency, a security guard acts as a first responder and provides immediate assistance.
In addition to the above points, a security guard also acts as a deterrent to criminal activity through their physical presence.
Types of security guards
Although the standard set of responsibilities of a security guard remains almost the same across the globe - protection of assets and defending against any potential security breach. Yet not all of them are responsible for the same set of tasks.
There are a variety of guards who serve different purposes depending on the type of training they receive.
Here are the different types of security guards and the services they provide:
1. Armed Guards
As the name suggests, armed guards are equipped with weapons. The weapon they carry depends upon the job for which you hire them. In addition to this, they go through rigorous training to handle the weapons properly.
2. Unarmed Guards
Unlike the term "Unarmed" sounds, these types of security guards are not literally without weapons. They are generally equipped with pepper sprays or batons.
Unarmed guards are less expensive than armed guards because they do not go through the weapons training that an armed guard goes through.
3. Bodyguard/Personal Guard
Personal guards or Bodyguards are assigned with the task to protect an individual. They are generally hired to prevent any incoming danger to the lives of HNIs, VIPs, celebrities, etc.
4. Patrol guards
Mobile patrol guards dedicatedly patrol your property(office, house, etc.) on a vehicle to check for any threat or suspicious activity. The main benefit of hiring a patrol guard is that they can cover and secure a large area in a short time.
5. Event security guard
Let's get it for a fact, managing a huge gathering of people is virtually impossible for a normal person.
This is the reason why large events utilize event security guards to manage and control access to an event.
Typically, event security guards are employed at concerts, conventions or games, etc.
6. Residential guards
These types of guards are generally positioned in residential properties like apartments, independent homes, or residential communities.
In addition to all the security-related tasks, they also conduct night watch operations.
7. Industrial and construction guards
Manufacturing units, warehouses, and construction sites, all require continuous security surveillance. An industrial or construction security guard is stationed in these sets of properties and takes care of the site's premises, and security breaches 24/7.
Apart from the ones mentioned above there are other types of security guards as well:
Uniformed guards

Video surveillance operator

Plainclothes guards

Corporate guards

Government security guards

Executive guards

Retail guards
Now that you know which guard best suits your requirements, let us figure out how to hire a security guard.
Why should I hire a security guard?
Now that you are all cleared up on how to hire a security guard, it's time that you get to know the reasons behind hiring a security agency.
There are several reasons behind hiring a guard. Depending upon your unique set of requirements, you might come to a decision to hire one.
Some of these reasons might be:
1. Deterring crime
The sight of a uniformed security guard can act as a deterrent to potential criminals, making them less likely to target your property or business.
2. Responding to emergencies
Security guards are trained to handle a variety of situations, including emergencies. So, if something does happen, they will know how to respond quickly and effectively to keep everyone safe.
3. Monitoring and Surveillance
Security guards can keep an eye out for potential security risks and help prevent incidents before they occur.
4. Providing customer service
In case you hire a guard for a store or business, these guards can be a helpful resource for customers, providing directions, answering questions, and ensuring that everyone on your property is safe and comfortable.
5. Compliance with laws and regulations
Depending on the nature of your business, you may be required to have security guards on-site to comply with local laws and regulations.
With all these reasons listed above, it's important to consider the specific needs of your business or property when deciding whether to hire a security guard. Different situations may require different types of security guards, like armed or unarmed and stationary or mobile security guards.
And of course, having a security guard on site can provide peace of mind and protection for your property, family, employees, and customers.
How to hire a security guard?
You might be wondering, it is so easy to hire a guard, then why are they explaining this?
It is a complete waste of time!
Well, it might be easy, but the easiest way is not always the right one.
It is good to ask your friends and colleagues for references, but it is not always the best way.
Here are a few questions you could ask yourself that can help you hire a security guard:
Can I trust the guards? Are their backgrounds verified?

What should the guard be equipped with?

Do the guard and the agency have a clean work record?

How many guards do I need to properly secure my property?

Will the agency take responsibility for any mishaps in the presence of a guard?
Cut time on this decision-making phase and directly get a comprehensive list of security guard companies.
How?
Simple
Let 56 Secure ease this task for you. We have tied up with some handpicked agencies across India who are ready to dispatch guards at your approval.
Just visit our security guard platform → Fill up your details → Tell us your requirements
That's it, you will have security guards at your disposal in a bare minimum time.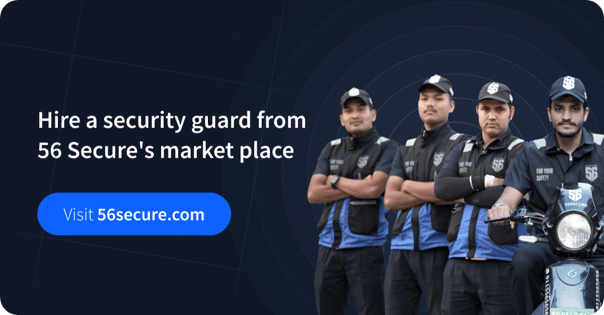 How much does it cost to hire a security guard in India?
You might be wondering right now, enough of knowledge transfer, get to the point: how much does a security guard cost?
Security guards in India can cost anywhere between Rs.12,000/month to Rs. 26,000/month with an average cost of Rs.18,000/month. This number is not fixed though and can vary depending on the location, type of property, recruiting agency, and the tasks you want the guard to perform.
So, now with the cost in mind, it's time for you to go select the right security guard company.
How to choose a security guard company?
Evaluating a security agency is the single most important factor that can give you peace of mind.
You need to consider the following factors while choosing the right guard company:
1. Experience
Look for a company that has been in business for a while and has a proven track record of providing high-quality security services.
2. Training
Make sure the company provides regular training for its guards to ensure they are up-to-date on the latest security techniques and procedures.
3. Licensing and insurance
Another important factor to consider is to check if the company is licensed and insured to provide security services in your area.
4. Equipment
Ensure the company uses the latest security equipment and technology to protect your property, family, or employees.
5. Customer service
Look for a company that is responsive and easy to work with, and that is willing to work with you to tailor their services to your specific needs.
6. Reviews
Check online reviews and ratings of the company, and see what other customers are saying about their experience with the company.
7. Price
Compare the cost of the company's services with other security guard companies to make sure you are getting a fair price. But pricing alone should not dictate your entire decision-making process.
8. Employee background check
Make sure that the security guards are properly vetted and have a clean record.
9. Response time
Evaluate how quickly the company responds to emergency calls. You don't want to be stuck with a company that is slow with their response time and SOS requests.
10. Communication
The security agency should have a clear and effective communication system in place.
Overall, you want to work with an agency that has a good reputation, is reliable and responsive, and provides the level of security that you need to protect your property, business, family, and employees.
Conclusion
Going forward it is important for you to properly consider when and how to hire a security guard.
Although hiring a security guard is your own independent decision, you should keep in mind all the factors mentioned above.
If you are looking to hire a security guard then what better place to go than 56 Secure?
We have a dedicated guard marketplace where you can skip all the hiring processes and hire the best security guards without any hassle for your required time duration and all the customizations you want.